Table of contents
Internet Explorer is a browser integrated into the Windows operating system and is gradually being replaced by the Microsoft Edge Web Explorer. Despite the company's refusal to develop new versions, Internet Explorer is still one of the three leaders in the global market. Below, we briefly consider what kind of Internet Explorer browser is, the brief history of Internet Explorer for Mac and Windows operating systems, what are its pros and cons, and how to use Internet Explorer on Mac.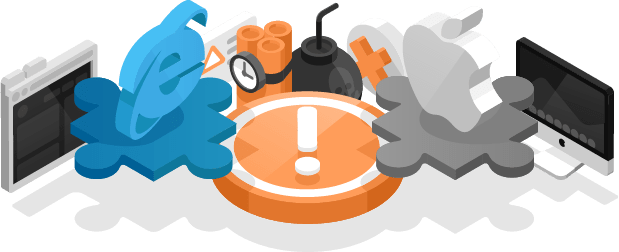 What is the Microsoft Internet Explorer?
Let's start with the theoretical part and consider what Internet Explorer is (short for IE). This is a program that was created by Microsoft between 1995 and 2015 for Windows operating system along with Mac Internet Explorer version 1996 - 2003 and UNIX one 2001-2002. The latest version is included with Windows 10, but comes with Microsoft Edge.
Internet Explorer is a representative of an era that, despite many critics, continues to be one of the three leaders among all browsers. Initially, Internet Explorer was planned as an element of a special package distributed separately of Windows. However, the company refused from such a plan and implemented the program directly in the software, updating it almost every year and releasing new versions which is unfortunately not the case for Microsoft Internet Explorer for Mac and UNIX.
History of Internet Explorer from version 1 to 11
The first version of Explorer appeared back in 1995 and was based on some developments from the first Mosaic graphical browser, bought by Microsoft. Over the next year, the 2nd and 3rd versions were released where support for CSS - cascading style sheets was already implemented and two years later in the fall of 1997 Internet Explorer 4 came out, distributed together with Windows 98.
Its code was substantially modified, and it was exactly Internet Explorer 4 that laid the foundation for the war of Internet browsers and the subsequent triumphant march of Explorers on the planet. The 4th version of the browser at that time had a very fast engine, it was produced for various platforms (Internet Explorer for Mac, Windows, and Linux operating systems) and thanks to this along with the integration into Windows, it was able to capture about sixty percent of the market in the world.
Internet Explorer 5 and its revised version 5.5 was built into Windows ME and was named after the Millennium. It appeared at the turn of the century and namely there innovation appeared, which is now used everywhere and is called AJAX.
In 2001, the company released its number 6 version of Internet Explorer, and can not get rid of its legacy even nowadays. This version of the browser came with a very popular operating system Windows XP (fast, easy, and almost the same as Vista and 7), which is actively used by many users these days. The main problem of Internet Explorer 6 lies in its failure to comply with modern web development standards laid down in the W3C consortium (this consortium was organized by the creator of the World Wide Web Tim Berners-Lee).
Five years later, Microsoft gave birth to its new version - Internet Explorer 7. It became part of the new Vista OS and generally speaking remained buggy. There was no longer one buggy browser, but in fact became two. Nevertheless, we should take into account some positive aspects, namely bookmarks were added (it became possible to open new pages in the same window, but not in a new one), which all competitors already had.
It was Microsoft Internet Explorer 8 which succeeded in seriously improving the situation with compliance with W3C web development standards, unfortunately not in its full amount. The security of work was also improved, for example appeared protection against phishing. Nevertheless, only since the 9th version of Internet Explorer, it became really good, working, fast, right when competitors were already threatening to just bury it. The 9th version of this browser even almost passed the test for the professional suitability of browsers ACID3. In fact, the nine and its followers are a ray of light among the frankly mediocre previous implementations of this browser. This version is quite stable, well protected and fast enough. But still, this version did not demonstrate any special advantages over other modern counterparts.
In 2012, along with Windows 8, Internet Explorer 10 was released - a much-improved product than all previous versions, and even in the conceptual style of a radically updated operating system - Metro (Modern UI). In addition to the standard desktop format, the browser has acquired an additional look in the minimalist Metro-application for devices with a touch screen.
The final stage in the qualitative transformation of Internet Explorer was its 11th version. Internet Explorer 11 is not only faster than its predecessor versions but is ready to compete with many popular browsers, which sooner or later almost every newcomer escaped from a regular Windows browser. Thanks to enhanced support for Javascript, CSS3, and HTML5 and the implementation of hardware acceleration, Internet Explorer, starting with version 10, can load web pages as fast as Google Chrome, Opera, or Mozilla Firefox.
Key features of Internet Explorer
The Internet Explorer browser supports pop-up blocking, works with tabs, has a built-in RSS aggregator, has a phishing filter, and the ability to auto-update via Windows Update. In addition, Internet Explorer supports international domain names and Group Policy.
The IE version for Windows runs on the Trident engine, which supports HTML standards 4.01, XML 1.0, CSS Level1 and DOM Level1. It is possible to connect extensions through the object model of components.
As of this date, Internet Explorer for Mac and UNIX has been discontinued.
Internet Explorer for Mac: key points you should know
Microsoft has announced the discontinuation of its version of the Internet Explorer (IE) browser for the Apple Macintosh computer platform. As reported, December 31, 2005, was the official end date for the release of updates, including security updates for this product. Until January 31, 2006, it was possible to download Internet Explorer for Mac but Microsoft encouraged those few MacOS users who still used this browser to switch to other products, for example, Apple Safari.
Let's remind you that Internet Explorer was the default browser for Mac OS from 1997 and up to Mac OS X 10.2. In 2003, with the release of Mac OS X 10.3 Panther, Safari became the default browser for Mac. Safari is Apple's own development, based on the source code of the KHTML library (providing the Konqueror Linux browser). Nevertheless, it was possible to use Internet Explorer on Mac as it was distributed with Mac OS X until the release of Mac OS X 10.4 Tiger in the year 2005. In 2003, with the first information about the upcoming Safari release, Microsoft Mac branch announced the cessation of work on the 6th version of Internet Explorer Mac version and the complete cessation of its support by 2005 and focused on the development of Microsoft MSN, released in 2005 Messenger for Mac.
Microsoft's decision surprised both the users of Mac and analysts, in particular, from Forrester Research. However, some of the experts were not shocked as the development ended on version 5, and in order to move on, Microsoft had to make a decision either to discontinue the support or invest in further development. However, the version of Mac Internet Explorer was significantly inferior to Safari, and Microsoft needed a lot of money and time to be competitive. Besides that, user preferences played not the last role in making this decision. However, it is unclear why Microsoft left the market segment, albeit small, with the onset of competitors.
What are the advantages of Internet Explorer?
Internet Explorer does not need to be downloaded, because it is part of Windows.
High security for payment services.
Support for Active X technology. Competitors cannot yet boast of such a feature.
Some sites open correctly only in Internet Explorer. This must be considered when working on the Web.
What are the disadvantages of Internet Explorer?
The program only works with Windows and there is no Mac Internet Explorer solution.
There is no full support for HTML5.
Many manuals and standards are not supported.
With the removal of IE from the Windows OS, difficulties arise.
Web Explorer is vulnerable due to its integration into Windows.
The interface of Internet Explorer looks too bulky, which creates a number of difficulties for users.
Almost no extensions and additions.
Speed ​​loses to other browsers, etc.
Microsoft Internet Explorer for Mac
Unfortunately, Microsoft has stopped supporting its beloved browser Internet Explorer for Mac platform. Nevertheless, there is the old version of Internet Explorer for this operating system, namely IE 5 for Mac. Later versions were no longer available and it became a problem for developers to launch the latest versions of Internet Explorer on Mac computers. There are different ways on how to get Internet Explorer on Mac. Yet they are complicated, require some time and can be a reason for your computer to freeze. But still, why do people need to run this browser on Mac computers. Web developers of various software products very often need to test their new ideas in different browsers. And if with cross-platform browsers like Firefox, Opera and Safari everything is more or less clear, then the built-in browser in Windows has always been a serious headache for them. And considering that for a long time this browser has been released only for Windows, it's very inconvenient to test the interfaces for it while working on Mac OS.
How to use Internet Explorer on Mac computer
As we know, this web browser is not cross-platform, so it only works on Windows. That is why problems may arise and arise with the installation on other platforms. However, in order to get rid of a necessity to use several computers for work and constantly jump from one operating system to another, there are many convenient tools. Thanks to it, web developers can use the Internet Explorer on Mac computers to help them with cross-browser testing, for instance, Comparium. Cross-browser compatibility is a full-fledged work of the site in any browser or application under any operating system. It is highly desirable that all components of the resource are displayed identically, and its functionality does not suffer, regardless of the browser or version of the user's operating system. Comparium helps to perform cross-browser testing, or compatibility testing, to determine whether these requirements are met. This online utility is very simple in use. You need to paste the URL, choose the operating system and browser, for example, Internet Explorer Windows operating system and click "Test". Comparium will run tests and provide you with the detailed screenshots. Thus, the programmers do not have to buy an additional computer on which they have access to a Microsoft web browser or install two operating systems on the same PC in parallel or even try to download Internet Explorer for Mac. This will save money and time.
Internet Explorer for Mac: Frequently Asked Questions