Whether you're creating your own website or working on client's sites, you might find you want to take a full page screenshot. This can be helpful to find website incompatibilities and see how a website displays on various operating systems and browsers. There are many ways to take a screenshot, and in this article we'll take you through some of the most popular methods.
Check these solutions to screenshot whole page:

How to take screenshot of entire web page with Comparium
Comparium is a powerful cross browser testing tool that lets you test websites - your own, or your client's - across various browsers, browser versions, and platforms. This can be helpful to detect issues or incompatibilities.
One of the testing methods used by Comparium is taking and comparing full page screenshots across different browser and OS versions. Although you could use other tools to do this, Comparium makes the whole process quick, easy, and efficient, and is designed with testing in mind.
You can choose from two subscription plans: Free or Live Plus, depending on your needs. Comparium also offers different modes of visual comparison, which helps you detect web pages' incompatibilities, as well as automatic error detection. There's also a live testing tool that lets you check out websites in real-time, as if you were the end user.
This is incredibly useful for seeing how features on your website function - for example, a shopping cart or download feature. Live testing with Comparium reduces testing time and optimizes your testing process, ensuring it is quicker and more cost-efficient.
With both the Free and Live Plus plans you get an unlimited number of screenshots, but with the Free plan you're limited to 1 parallel test and 1,000 screenshots per month for testing. Upgrade to Live Plus to get unlimited minutes for live testing and an unlimited number of live sessions per month.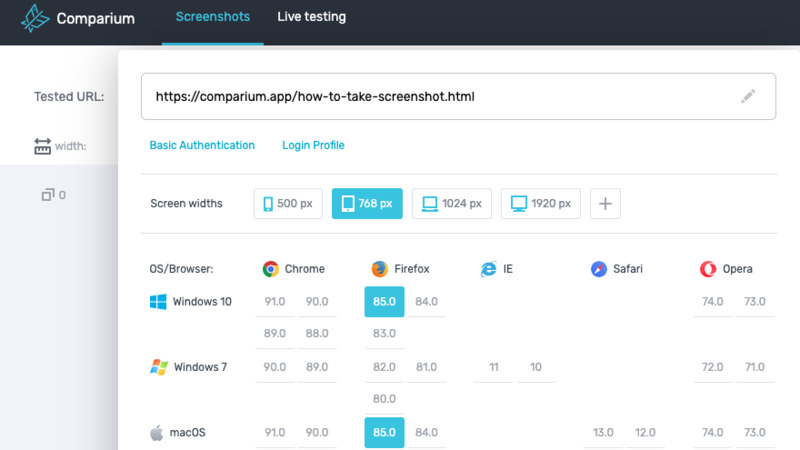 To take, view, and save a full page screenshot using Comparium, just follow these step-by-step instructions:
Copy and paste the website URL into Comparium's search box.
Select your OS and browser from the list and choose your screenshot resolution (the maximum length of a screenshot is 1500 px).



Click Create Screenshots.
Once your screenshots have been created, they will display as small previews. To make them bigger, just click on them. Now you can save this screenshot to your computer like any picture from a webpage. Each screenshot will show info on the size, OS, and browser.
You can also select, refresh, or delete one or multiple screenshots.
To compare screenshots, click Compare. You'll be given various different options for your comparison, such as Overlay, Side-by-Side, or Find Differences, which automatically detects visual incompatibilities and highlights them.
How to screenshot entire page with Chrome developer tools and extensions
Google Chrome has built-in tools that allow you to take a full-page screenshot Chrome - and they are easy to use, without the need to download an extension. Just follow the step-by-step instructions below to use Chrome to take a screenshot:
Open Google Chrome.
Go to the More menu (which looks like three stacked dots at the top right of your browser window).
In the pop-up window, select More tools > Developer tools.
A new window will pop up filled with code.
If the page still looks the same you can click the Toggle device toolbar icon (in the top left corner of the window).
Select what device you want to view the screenshot on using Responsive mode (or leave it on Responsive).



Click the More button (at the top right again) then select Capture screenshot from the menu that appears (or capture full size screenshot).
After a few seconds, the Chrome full screen capture will download and the screenshot will automatically open.
You can also use one of the browser extensions found in the Chrome Web Store to create a full page screen capture Chrome. One of the most popular is GoFullPage. Here's how to use it to create a screenshot in Chrome:
Download and install the extension.
Navigate to the page you want to take a screenshot of.
Click the little camera icon (which you should see to the right of the URL (or press Alt + Shift + P).
Don't press any keys! The extension will scroll through the web page, capturing a screenshot.
Your screenshot will automatically open in a new tab and you can download and save it as an image or PDF, or drag it to your desktop.



In some cases a page may be too large for the extension to store in one image, in which case it will let you know and split it into separate images in separate tabs.
Other ways to screenshot entire page
As well as using tools like Comparium and Google Chrome tools and extensions, there are other ways to make a full page screenshot. Here are just a few of them:
Print and save a web page as a PDF. To do this in Chrome, just click File > Print > Save, and your web page will be saved as a PDF.
Use Parallels Toolbox, which lets you take a scrolling screenshot on Mac or Windows. You can try it free for 7 days. Click on Screenshot Page to add the extension to your browser, then click the Camera icon to scroll your page and take a screenshot, which will automatically save to your desktop as a PDF.
Use Snagit (15-day free trial) on PC or Mac. It's easy to use and lets you download and edit screenshots.
Use free online services like Web-Capture.Net. Just copy and paste the URL, choose your file format, and wait for your screenshot to process.
Conclusion
We've covered quite a few different ways to screenshot whole page, but in our opinion Comparium is the most convenient, flexible method for scrolling screenshot capture. Not only is it easy to use, it also has a choice of two subscription options to suit your needs, and it allows you to compare screenshots in a variety of ways as well as live testing which lets you test out features on a website as though you were the end user.
Frequently Asked Questions