Before releasing a website or web application, it is important to thoroughly test it to ensure that the end result meets the expected requirements. When it comes to browser compatibility testing, developers and testers usually turn to online testing tools. BrowserStack is one such tool.
It allows testing websites across multiple platforms and browsers and empowers simplicity, convenience, and speed. But there are still other services that are worth your attention. So, we have compiled a list of cross browser testing tools that can be a good BrowserStack alternative.
Let's look at alternatives to BrowserStack:

Comparium
If you are looking for the alternative to BrowserStack, Comparium will be a good option. Comparium is an effective online utility for checking how websites display in different browsers and all possible combinations.
You can run cross-browser compatibility testing with different configurations, such as browser type, operating system, screen size and resolution. Among supported browsers are Microsoft Internet Explorer, Opera, Safari, Google Chrome, and Mozilla Firefox.
Comparium comes with an array of features that will be useful both for beginners and professional developers. Four modes of visual comparison help to reach even better results and make it easy to identify the web page's incompatibilities.
Here you can select the most convenient way for you to compare screenshots: whether you want to compare taken screenshots next to each other, identify inconsistencies by dragging the slider or use the highlighting feature in automated mode. All this can be done using Comparium.
Looking for the ability to check your website in real-time? Comparium offers a Live testing feature to launch live sessions of any browser. That is to say, you can fully experience how the user interacts with your site.
With this feature, you do not need to install additional software or virtual machines to be able to operate on a specific browser or operating system. The functionality of this service allows executing parallel tests and simulated launches on several operating systems as well.
Although Comparium has powerful functionality, its interface is neat and intuitive. It should be easy to understand how it works. After entering the website URL and selecting configurations, you will get the results in a couple of minutes.
Comparium is a BrowserStack free alternative to test your site and make sure everything looks right and without glitches.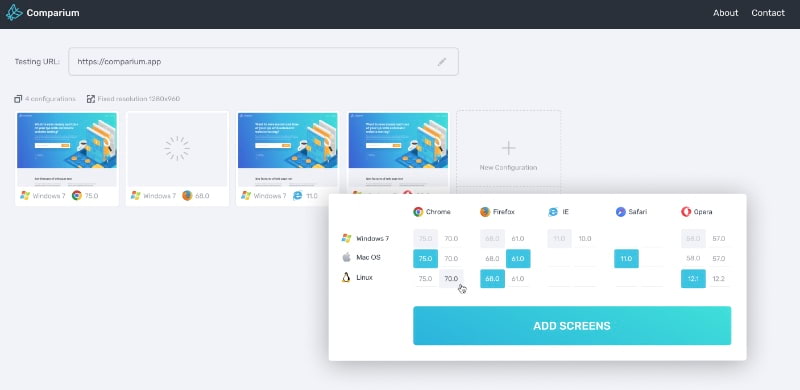 Pros:
offers various visual comparison modes;
support different browsers and OS;
provides parallel and simulated testing across multiple operating systems;
ability to test in real-time.
Cons:
supports live testing only on Linux and Windows;
does not support the old versions of browsers.
Reasons to look for Browserstack alternatives
BrowserStack is an online tool for testing the visual part of your resource to enhance a seamless experience. It gives access to real devices for testing and supports a wide range of browsers. Additionally, you can instantly test a webpage using a browser plug-in from your Chrome browser.
There is a possibility to see how the site appears on the devices and browsers using Browserstack screenshot testing. The tool generates screenshots for an entire webpage, so you will get accurate views of the site's compatibility across devices and browsers.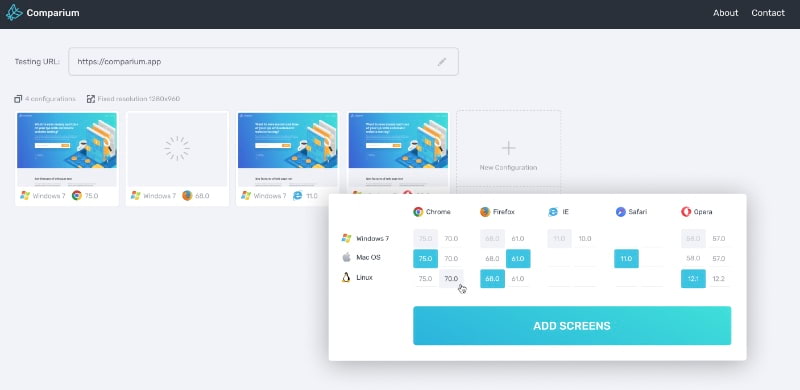 Pros:
easy to use to check web pages for cross-browser compatibility;
supports all the major browsers;
offers Chrome extension for instant testing.
Cons:
it can be slow at times;
it is quite pricey.
Most of the BrowserStack pricing plans are quite expensive and mostly aimed at corporate customers, and the cheaper plans have limited functionality. Therefore, we suggest considering BrowserStack alternatives.
What to consider as BrowserStack alternative
Check the below list of alternatives to BrowserStack available online for cross-browser testing.
LambdaTest
LambdaTest continues our list of sites like BrowserStack. This browser compatibility testing tool allows testing on more than 2000 combinations of real browsers and operating systems. LambdaTest comprises such features as interactive multi browser testing, geolocation testing and visual UI testing including screenshot testing, responsive testing and smart UI testing.
LambdaTest also enables users to generate full-page screenshots of web pages across on-demand devices, operating systems, browsers and resolutions, as well as provide integration with the following project management and bug tracking tools: Trello, Asana, Jira, BitBucket, etc.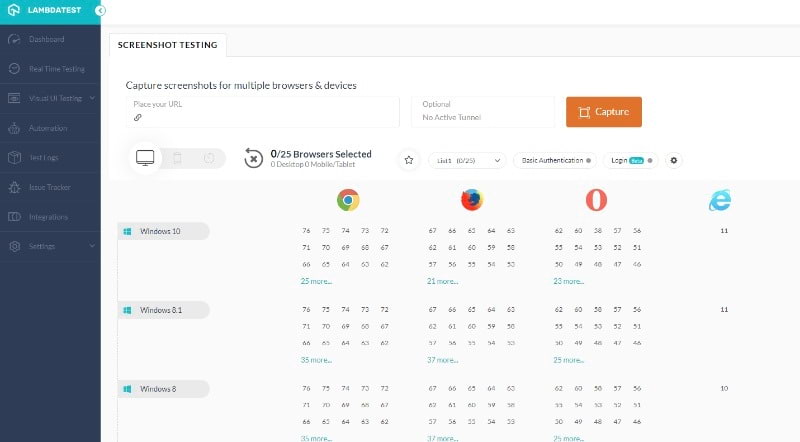 Pros:
has user-friendly interface;
ability to debug issues in live testing using integrated developer tools;
a wide choice of browsers and integrations.
Cons:
there may be lags on virtual machines for a very short time;
it could be faster when generating screenshots.
CrossBrowserTesting
Both BrowserStack vs CrossBrowserTesting are online platforms for testing web products in terms of virtual use on real devices running on various operating systems.
With CrossBrowserTesting, you can perform interactive testing on live remote devices, view websites across any browser at once and run auto tests using Selenium and other frameworks, record the test cases and replay them on various browsers. By the way, the tool is integrated with such tools as Jenkins and gives full access to debugging tools.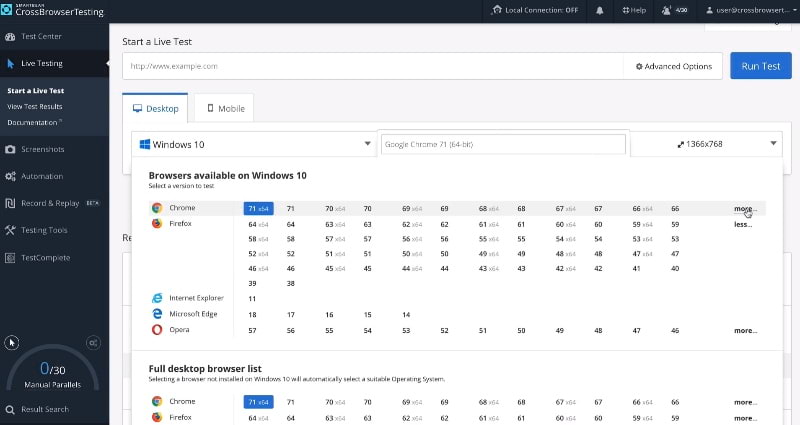 Pros:
large base of browser configurations;
the ability to run visual regression tests;
access to developer tools and extensions like FireBug and Chrome Dev Tools.
Cons:
free access for just one hour;
some tests are still being done on emulators.
Perfecto
Perfecto tool supports a wide range of different browsers and their versions and enables mobile & web testing in the cloud. Perfecto features remote app debugging, robust analytics, and provides automated testing tools to reach continuous integration.
With this tool you have the ability to test the localization of web applications. Perfecto also integrates with your current processes and all the tools used by the team.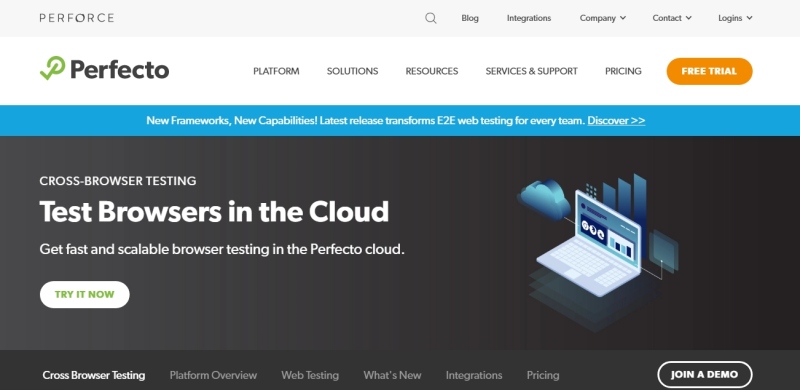 Pros:
has simple and neat UI;
provides smart test reporting & analytics features;
manual and automation testing capabilities.
Cons:
sometimes responds slowly;
it is quite pricey.
Ranorex Studio
Ranorex Studio is one more tool for cross-browser compatibility testing and BrowserStack alternative, accordingly. Being an all-in-one solution, it empowers machine-trained object detection, test healing, video reporting and PDF validation. Ranorex Studio integrates with Jira, Jenkins, TestRail, and more. You can also use C# to script your tests.
Ranorex Studio comes with GUI object recognition tools: RanorXPath and Ranorex Spy. These tools help to identify, edit and manage UI elements within the application.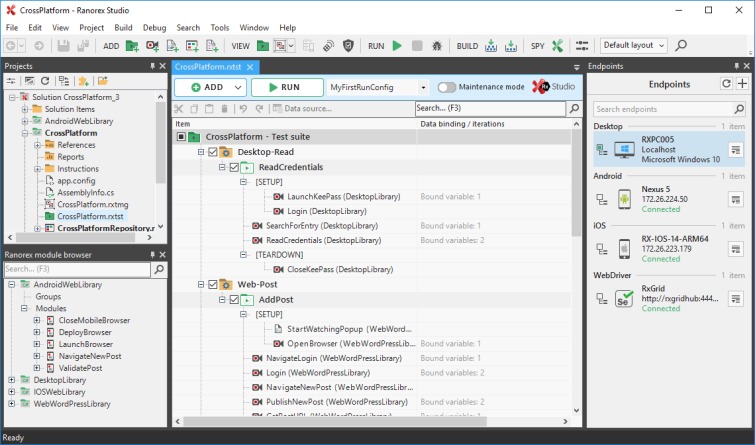 Pros:
UI is easy to understand;
ability of data-driven testing;
integrates with Jira, Jenkins and more.
Cons:
Conclusion
Cross-browser testing is of great importance in web development. Executing such tests, you can determine if your website and all its components are displayed and functioning correctly on the targeted browsers or devices. Websites should be cross-browser compatible to provide an exceptional user experience. Comparium will help you to easily achieve that.
Comparium is considered to be one of the best BrowserStack alternatives as it comes with all the required tools for comprehensive testing and a user-friendly interface for more convenient testing processes.
Frequently Asked Questions