List of as powerful as LambdaTest alternatives
Checking a web application for cross-browser compatibility is an important part of the project development procedure. The number of browsers in use is constantly growing, which clearly defines the need for an automatic tool that will prove to be a good help to support the increasingly complex verification process. LambdaTest is one such tool that analyzes the compatibility problems of your website between browsers. However, there are a huge number of LamdaTest alternatives on the market that stand toe to toe in functionality. Below you will find the list of alternative services that are worth your attention. Enjoy reading.
Comparium – low-cost alternative to LambdaTest

Comparium
Rank based on
1021
+ users
Reviews (250)
Requirements: Chrome, Mozila Firefox, Opera, Safari, Edge, IE-11
Category: Online service
Comparium is an affordable alternative to LambdaTest with all the necessary features included in a free plan of the service. It is a convenient online platform for automating cross-browser testing based on Selenium The service has a wide range of supported browsers and offers to choose the exact version that you want to test. Comparium has 3 different modes of manual screenshot comparison testing modes, one automatic as well as the ability to tst and compare the layout with the mockup.
The service also features a real time testing mode to launch live sessions of any browser and check the behavior of the website across different combinations of OSes and browsers. The functionality of this service provides performing parallel tests to accelerate testing time thus getting results in a shorter time. Despite having powerful functionality, the interface of Comparium is neat and intuitive and it will not take a lot of time to figure out how it works.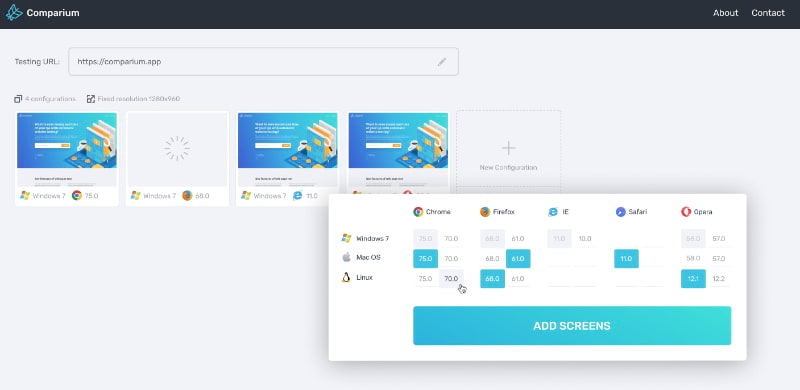 Pros
extension for Chrome and Chromium-based browsers;
support for parallel testing;
live-time testing mode;
ability to compare screenshot with the mockup;
various OSes/browsers/resolutions.
Cons
no support for Android OS;
lack of macOS in real-time testing.
CrossBrowserTesting – multifunctional LambdaTest alternative
The really cool thing about CrossBrowserTesting is that it uses real devices to test your site. Both CrossBrowserTesting vs LambdaTest have a list of features that is quite extensive, and in general, these tools are really worth its money. There is a suspicion that CrossBrowserTesting boasts the largest list of supported browsers (about 900) and operating systems (about 40), including iOS, Android, Windows, Mac and others.
Another distinctive feature is the live testing mode, in which you can test your site in a real environment. In addition, the ability to automate tests and compare screenshots is provided. By the way, the monthly fee for this arsenal is only $29, and in order for you to feel it with your own hands, there is an opportunity to use the trial version for a week.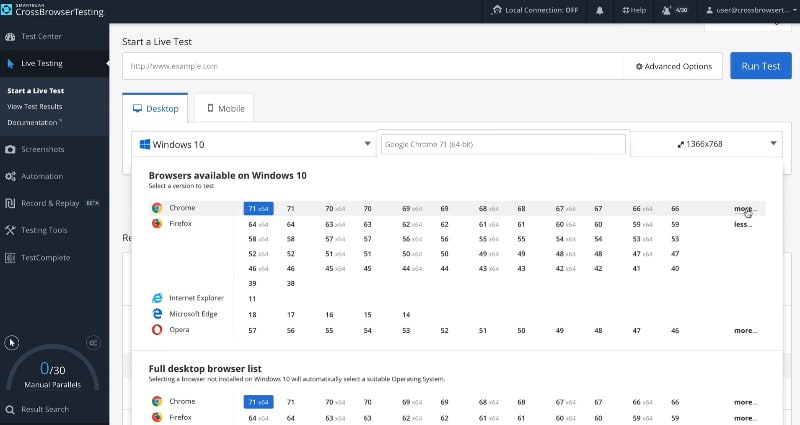 Pros
impressive list of supported browsers and OSes;
good for quick testing;
mobile browsers support;
trial version.
Cons
load time issues while testing;
high price;
Linux support is missing.
BrowserStack – high level of website testing
BrowserStack is another major player in the industry and a great alternative to LambdaTest. It is a cloud simulator of popular operating systems and browsers. The service is great for testing mobile devices (real devices used), however there are also 700+ desktop browsers available. The developer can not only evaluate the correct location of various elements of the site but also debug the work of JavaScript, CSS, Ajax, or Flash.
Using this service, you can also perform local tests, take quick screenshots with resolutions from 800 × 600 to 2048 × 1536. This service is very popular among grocery companies, as it provides a multifunctional set of features with simple and understandable settings (and all this in real time). If you need more features and tools for testing, you can upgrade to the paid version for $ 29.95 per month.
Pros
use of real devices;
easy to use;
Chrome extension available;
local App.
Cons
requires a lot of system resources;
the price is huge;
slow load time.
Browsershots – the most complete emulator for all kinds of browsers
BrowserShots is the oldest and most famous free online screen capture service. It supports a wide variety of browsers: 61 combinations of different browsers and operating systems. It includes browser options for Linux, Windows, and BSD. It also contains browsers you might not know about (for example, Galeon, Iceape, Kazehakase, and Epiphany).
By default, this LambdaTest alternative checks the latest versions of browsers, but older versions are available as well. Unfortunately, the free service does not provide an opportunity to automate the testing process, so it can take quite a long time. In addition, the list of available browsers lacks mobile ones, but despite this, the tool did even more than expected from a free utility. Unfortunately, the service is no longer supported by the developers.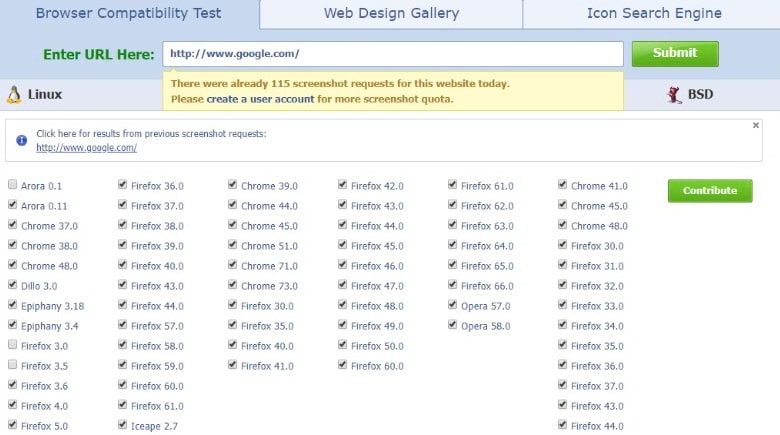 Pros
possibility to select screen's depth, colour, size;
list of supported browsers is huge.
Cons
service is no longer supported by the developers.
Conclusion
Cross-browser compatibility is a very important thing that should be taken into account when working with resources of various kinds. It is important both for simple articles and for large portals, online stores, services, etc. Regardless of the tool you use, regularly testing your project during development helps you get rid of the big problems that can arise while using it and saves you time.
Choose a service that best suits your workflow and check for any significant design changes. Comparium is considered to be the best alternative to LambdaTest that perfectly combines price and the offered features and allows fully analyzing and monitoring the site with no need to install additional tools and services.