CrossBrowserTesting alternatives
This article wants to talk about the best free cross-browser testing alternatives you can find that will come in handy for your online business. We'll explain the most affordable solutions as powerful as CrossBrowserTesting regarding performance, accuracy, and usefulness. No need to hire an IT guy or invest in an IT team, you can do these performance tests yourself whenever you need to keep your website or app run smoothly on multiple devices and browsers.
Comparium – The Best Cross-browser Testing Solution

Comparium
Rank based on
1021
+ users
Reviews (250)
Requirements: Chrome, Mozila Firefox, Opera, Safari, Edge, IE-11
Category: Online service
Let's stop for a second and talk about Comparium. It is a cross-browser testing tool, a software better said, that helps you analyze the stability of any website across different operating systems and browsers. It works exceptionally well with OS such as Windows, macOS, or Linux. On top of that, it's also compatible with the most popular browsers such as Google Chrome, Firefox, Safari, and Opera too.
Comparium helps you identify broken links, checks unoptimized coding that could cause server errors. It tests manually, by reviewing every version of your webpage on multiple operating systems and browsers. It has a friendly user interface, with automatic screenshots comparison, live performing tests, and simultaneous testing as well.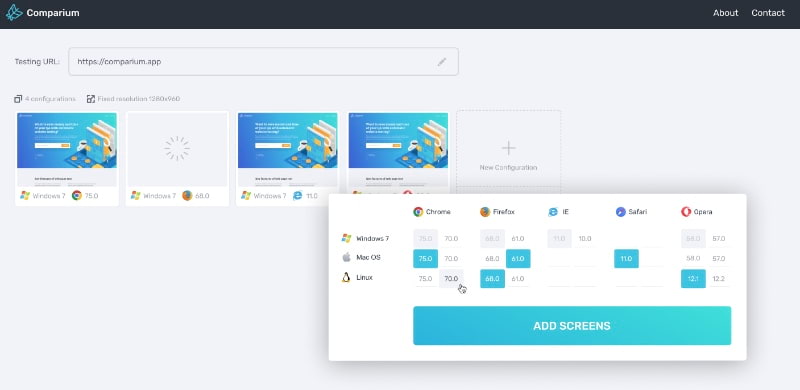 Pros
it replaces repetitive processes with few manual clicks;
unlimited web page testing;
compatible with all browsers and operating system used by general Internet consumers.
Cons
screenshots aren't generated in the Microsoft Edge browser;
old browser versions aren't supported.
This tool has amazing features for its free cross-browser testing version. Regardless of its limits, Comparium is the type of software that constantly upgrades to meet each user's expectation. If there is something Comparium can't do at the moment, be sure it will do it in the future.
Browserstack - Useful CrossBrowserTesting Alternative
BrowserStack is another cross-browser testing tool to take into consideration. It has one of the biggest collections of browsers for mobile and PC devices. This assures qualitative tests for any webpage and has an impressive error identify accuracy.
If we were to do a CrossBrowserTesting vs BrowserStack comparison, it would be a tight one. However, BrowserStack offers devs the tools they need to perform quick and accurate tests thanks to its open-source projects and because they also have access to local services.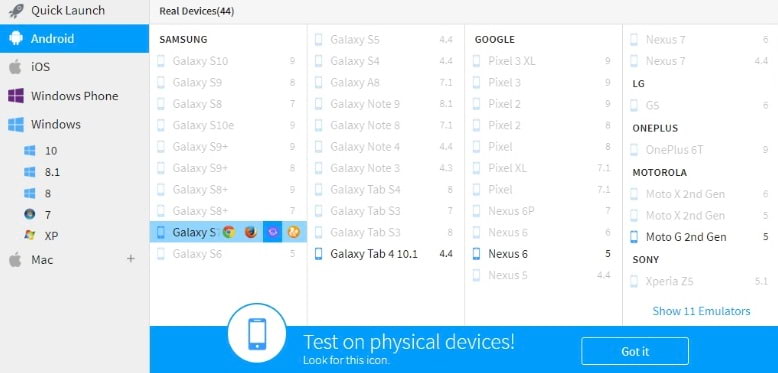 Pros
unique API testing;
code inspecting on multiple devices to identify issues.
Cons
emulated mobile devices;
slow performance;
affects system service.
BrowserStack is the type of tool that offers extensive testing. Organizations that can put together a roadmap of website testing procedure and take this step a little further than a small business. The live-view option offers the possibility to enter your website and choose different browsers to test on. BrowserStack also works with older browser versions as well.
Lambdatest – User-Friendly Cross-browser Testing Tool
If you're looking for a reliable web browser testing tool, Lambdatest is a perfect choice. This software can test 200 browsers and more, as well as operating systems.
What's even greater about this cross-browser testing tool is that it takes a step further and checks compatibility, pixel perfection, and, most importantly, user experience. All in a live environment. Of course, it provides screenshots of how the webpage looks on multiple browsers and devices.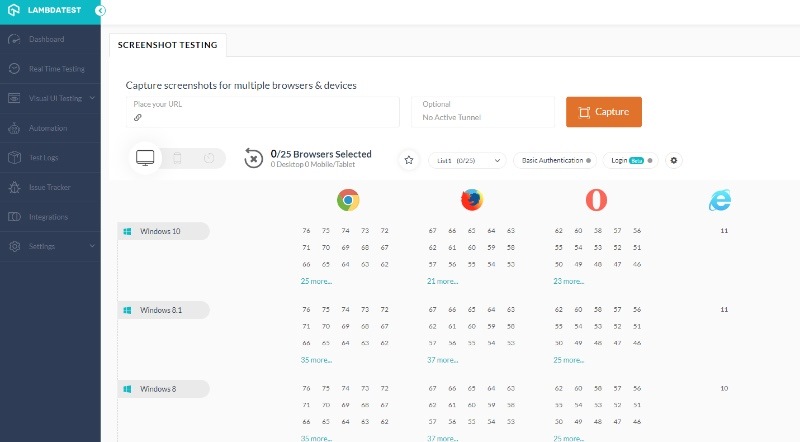 Pros
user-friendly interface;
time interval testing;
sends screenshots from the needed URL to your email;
great browser integration.
Cons
slow screenshot generator;
short time lags finder.
Lambdatest also has a premium version, however, unlike CrossBrowserTesting pricing, this testing tool also includes debugging features to help you solve design issues. Lambdatest also offers an online support team, so you can do so if you want to collaborate with them.
Open-Source Services
Aside from a cross-browser testing solution, you can also opt for other types of services to test your website's compatibility and performance with popular browsers.
Browsershots is a free open-source website that can help you test your website's compatibility on a single web page. It makes screenshots of a website design in different environments such as operating systems or browsers.
Browsershots use community cooperation, which means that the work is done by members of an online community that compares screenshots and uploads them as required. Even though it was a great choice, the Internet's world evolved and manual testing has long been replaced by smart software that does the job. So, naturally open source services like Browsershots are no longer supported by devs or the community in itself.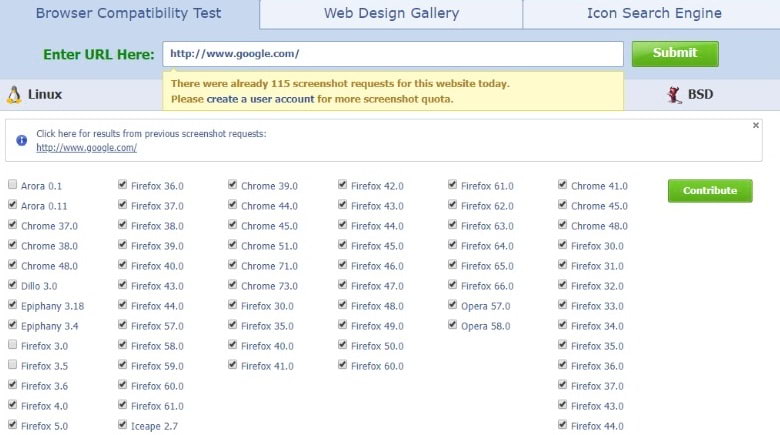 Conclusion
If you're the type of person who is looking to test their website across multiple platforms but doesn't have the time and resources to invest in complex software, then Comparium is what you need.
Comparium has many features and an expanded range of browsers to help you get the most accurate results and also simply the entire testing process. We recommend you check this tool out and see for yourself how easy it is to assure a top-quality website.