MultiBrowser testing alternatives
Free and affordable solutions that offer the same features as MultiBrowser for website testing are fairly easy to find.
The hard part is knowing which one works best for your requirements. The most popular alternatives to MultiBrowser all take different approaches to solve the cross-browser testing problems faced by every developer, so we have taken a closer look to weigh up the pros and cons of each.
Comparium – the best MultiBrowser testing alternative

Comparium
Rank based on
1021
+ users
Reviews (250)
Requirements: Chrome, Mozila Firefox, Opera, Safari, Edge, IE-11
Category: Online service
Comparium is a MultiBrowser testing alternative with one of the highest ratings from a growing base of users.
Comparium is a web app that lets you analyze and optimize any website – in any combination of operating system and browser. Tests can be performed in real time, through virtual browsers, as if they were installed on your own machine. Parallel testing on multiple browsers at once is also possible, making it fast and flexible.
The app tests reliably for different screen resolutions, giving you a real-world overview of how a webpage looks on different systems and devices. By generating full-size screenshots, side-by-side comparisons are quick and easy to share – meaning that getting the final sign off on a build is easier, too.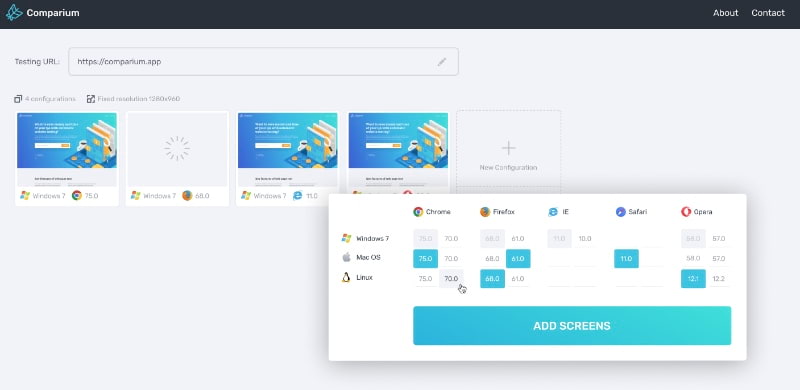 Pros
Excellent browser, OS and device compatibility;
Full features across the range, with only usage limitations in free;
Highlights visual incompatibilities;
Test result automation.
Cons
Obsolete browsers are not supported;
Screenshots are not generated in Microsoft Edge.
Surprisingly, Comparium gives away all of its most powerful features for free. While there are usage limits, the freemium model scales very competitively, with prices for a fully-supported, unlimited use account starting at just $14.99 per month.
Comparium's appeal and high ratings can be attributed in part to the transparent product roadmap; new features are constantly being announced, developed and launched. This makes it a better value proposition than single-purchase desktop applications, and more cost-effective over time.
It's clearly set out, with a strong UI and excellent features – and even the free version gives web developers everything they need for effective cross-browser testing.
BrowserStack – a useful toolkit for website testing
BrowserStack is another MultiBrowser website test alternative, which is growing in prominence around the world. It boasts one of the widest selections of browsers, mobile and desktop devices – giving developers a huge range of testing opportunities.
If a MultiBrowser review drew BrowserStack as a contender, the fight would be extremely close – but BrowserStack would just about come out on top.
That's because BrowserStack also offers app testing over multiple devices, operating systems and platforms, making it a great toolkit for web developers and app developers, too.
That richer feature set doesn't make BrowserStack a "jack of all trades" – far from it. The platform excels in each of its disciplines, and does so over one of the broadest ranges of tech.
This great size is also BrowserStack's biggest problem. While it makes perfect sense for large agencies and in-house teams, it's not applicable to smaller teams and independent developers. For the majority of independent web developers, BrowserStack is going to be overkill.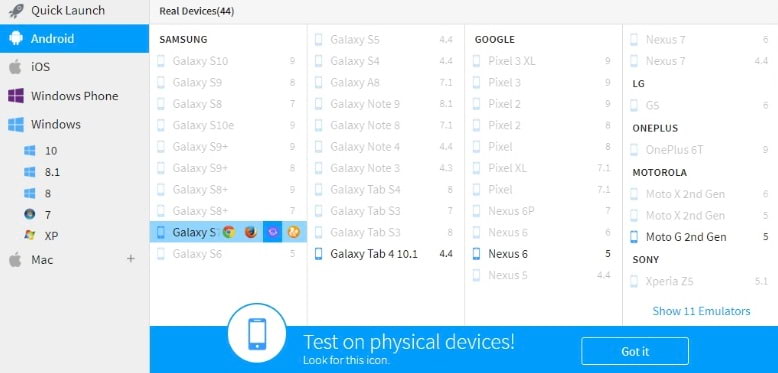 Pros
Extensive capability for web browser testing;
App testing also offered;
Allows testing on obsolete and legacy technology.
Cons
High price of entry, with limited base subscription;
Limited parallel browser testing (one test at a time);
Slow performance reported.
In summary, BrowserStack is an excellent solution for big development teams, who need an all-in-one solution for app testing and cross-browser testing. Its integration with Atlassian apps and Slack is a clear sign that it's geared to the workflow of a large enterprise.
While it won't affect the majority of end users on consumer technology, compliance with legacy browsers, operating systems and devices is also a key feature.
Still, the most basic subscription starts at $29 per month for a single user – and that's for desktop only. BrowserStack is a big hitter, at a big price.
LambdaTest – a reliable website testing tool
LambdaTest is a cloud-based cross-browser testing tool. It offers a lifetime free subscription – but unlike Comparium, the features are throttled and limited by timed sessions.
For quick checks (very quick – each real time browser testing session is timed at just ten minutes) LambdaTest gives powerful, reliable performance. Here's the rub; you can only test on desktop browsers. Access to mobile browsers kicks in at the $99 per month (billed annually) subscription level.
In terms of bang for buck, LambdaTest doesn't look too good on paper – but it does look good in use. The UI is brilliantly clear and intuitive, offering one of the most user-friendly MultiBrowser website test alternatives on the market.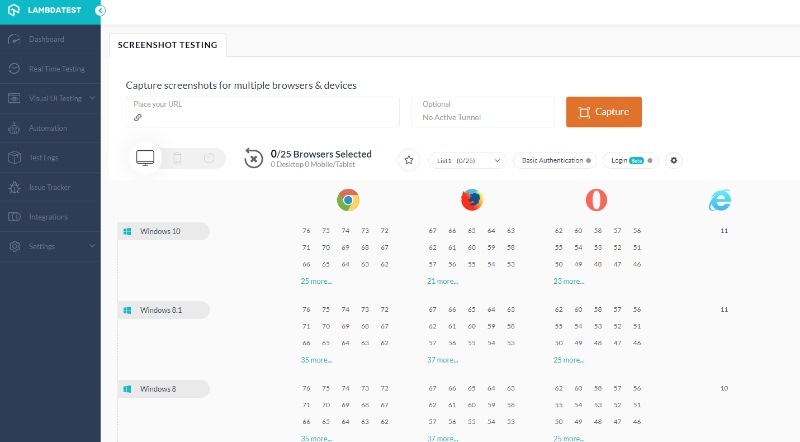 Pros
Feature-rich;
Excellent user interface;
Third-party app integration.
Cons
Time-restricted free sessions;
No mobile browser support, even at base subscription;
Screenshots can be slow to generate.
It's beautifully designed and easy to use, but this comes at a price. LambdaTest makes clear that it's looking for enterprise-level customers over small teams and indie developers, so it's pricing makes sense.
Open-source alternative: Browsershots
We've got to give an honorable mention to Browsershots. It was a free, open-source website testing platform. Like other cross-browser testing tools, it generates screenshots of webpages running on a range of operating systems, browsers and screen sizes.
Sadly, Browsershots is no longer supported by developers or the community that ran it. It was based on a crowdsourcing model – which gave real-world examples and total accuracy, at the expense of speed and security.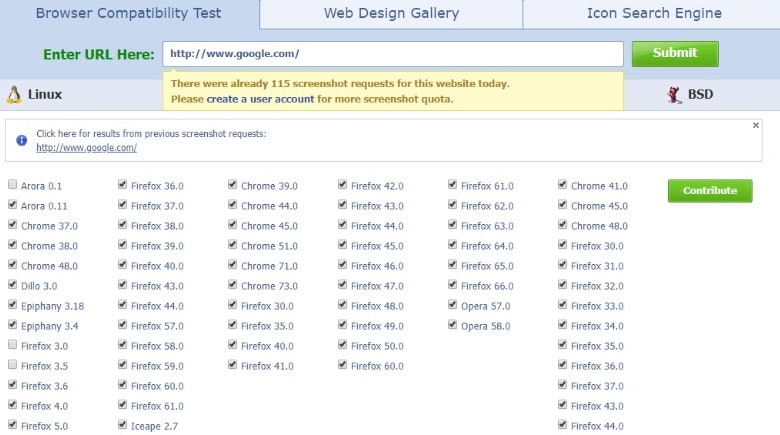 Conclusion
While larger enterprises will benefit from the legacy support and features of BrowserStack and LambdaTest, they're not flexible or accessible enough for high quality, entry-level browser testing. And although LambdaTest offers a free version, with the same beautiful UI, it falls short of what Comparium offers for free – especially considering how well-designed Comparium is.
So, for small teams and solo web developers, Comparium is the best cross browser testing tool.
Its most powerful features are available for free, with generous usage limits, and the platform scales very affordably. It's ideal for emerging teams and startups, where resources are tight but absolute quality is required.
It offers testing over the most popular consumer devices, operating systems and web browsers, over multiple screen sizes – and it's completely free to try – making it totally risk-free, and accessible to everyone.