The Best Browsershots Alternative Tools
Given that the Browsershots tool is a free web-based service that's been getting on in years, it pays to look elsewhere to see what the latest cross-browser testing tools can offer modern developers. Some important factors to consider include:
Response time: How long does the service take to process and render screenshots?
Supported browsers and OS: Which browsers and operating systems are supported, and are older versions of the software also supported?
Features: Do you get useful features that can make your web development process more efficient?
Cost: Does the service on offer represent good value for money compared to the competition?
Comparium

Comparium
Rank based on
1021
+ users
Reviews (250)
Requirements: Chrome, Mozila Firefox, Opera, Safari, Edge, IE-11
Category: Online service
At the moment, Comparium offers some of the best value for money out of all the Browsershots alternative options. There are some really useful features on offer, like the browser screenshots testing tool that lets you take full screenshots across different browsers and operating systems, helping you quickly detect inconsistencies and measure responsiveness.
Another handy feature is the live browser testing tool, which lets you check optimization in real-time across different browsers. There are further tools to let you test screen sizes, resolutions, and responsiveness. There's also a great browser emulator service that lets you test your pages across emulated versions of different combinations of OS and browsers without having to install them on your device.
Overall, Comparium offers great value for money and a superb set of robust testing tools, making it one of the best cross-browser testing services available for improving your web development.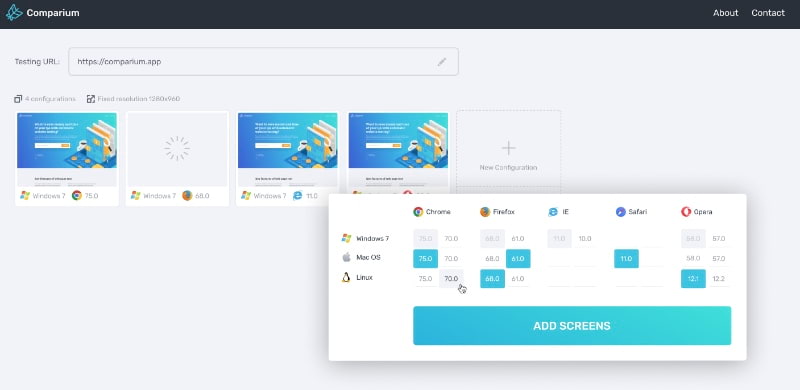 Pros
Excellent error detection;
Virtual browser emulation lets you test on a range of different OS and browser combinations;
Leading real-time testing features.
Cons
Limited support for older browser versions.
BrowserStack
For a really comprehensive alternative to Browsershots org, BrowserStack definitely offers users a heavy-weight set of features. The virtual emulators let you test hundreds of different browsers across PC and mobile devices, allowing you to use qualitative testing to track down errors in any program. It also has a range of features to help with location-specific testing, and has a large suite of tools to check site performance.
Unfortunately, the large number of features on offer frequently results in slow performance, and the program puts a high demand on your computer's resources when running. Additionally, Browserstack is very expensive for what you get in comparison to other Browsershots alternative free programs.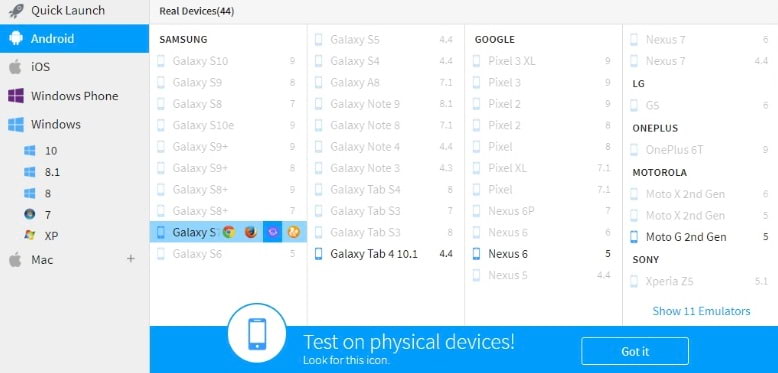 Pros
Location-specific testing features;
Huge range of browsers supported in emulation;
Unique API testing.
Cons
Slow performance;
Requires a lot of computing resources;
Comparatively expensive.
CrossBrowserTesting
This Browserstack alternative tool offers users an online platform to virtually test their sites on over 1,500 remote devices with an emphasis on excellent mobile testing. With CrossBrowserTesting you can test and debug on remote devices in real-time, and simultaneously check the performance of a page in multiple different browsers.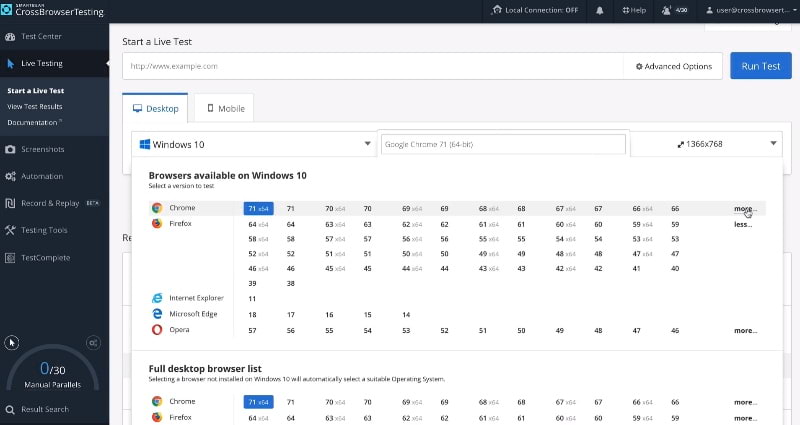 Pros
Over 100 browser versions supported;
Interactive and side-by-side testing;
Native device testing;
Solid mobile testing.
Cons
Only 1 hour of free access available;
Not all testing occurs on real devices.
LambdaTest
This cloud-based cross-browser testing service lets users perform automated and manual compatibility tests on a wealth of different browser and OS combinations. LambdaTest is a useful Browsershots org alternative for those who want an emphasis on automated testing. It lets you have your page open on multiple browsers at the same time.
Unfortunately, there are no version controls, and, beyond basic debugging, there aren't many tools available if you want to test performance to help with fine-tuning your pages.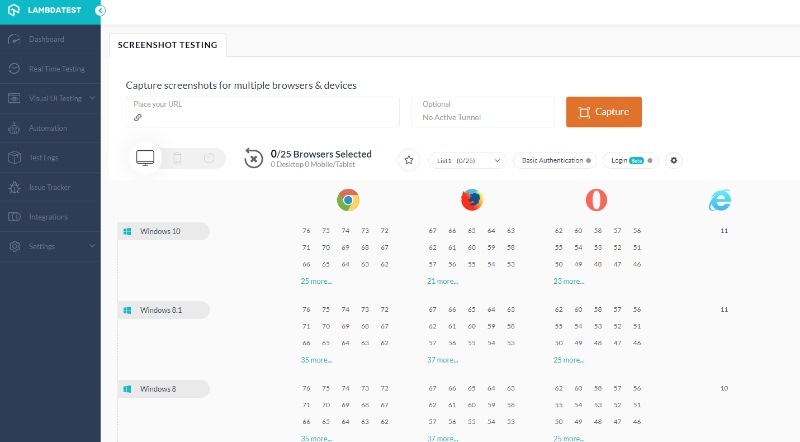 Pros
Excellent automated testing features;
Test pages in real-time across different browsers at once;
Good integration with other developer tools.
Cons
Limited dashboard analytics;
No native device testing;
Can run slowly.
Conclusion
It's hard to overestimate the importance of a good user experience in dictating whether or not your website proves successful. A powerful cross-browser testing tool is essential to ensure that users have a good experience when navigating your site, no matter what browser and operating system they're using.
While a tool like Browsershots org might have been useful for occasionally checking the performance of a single page, most modern developers need more from their testing tools, and the service is really starting to show its age. That's why it's worth looking for a Browsershots alternative that offers great value and a better range of features to make sure your pages are working properly.
We've tried and tested many of the leading cross-browser testing tools that are currently available, and if one Browserstack alternative stands out, it's definitely Comparium. The combination of innovative testing features, great usability, and a wide range of supported browsers make it a fantastic all rounder for ensuring peak performance on your site pages. Use this excellent Browsershots alternative free with the trial version to begin enjoying these powerful features right away.